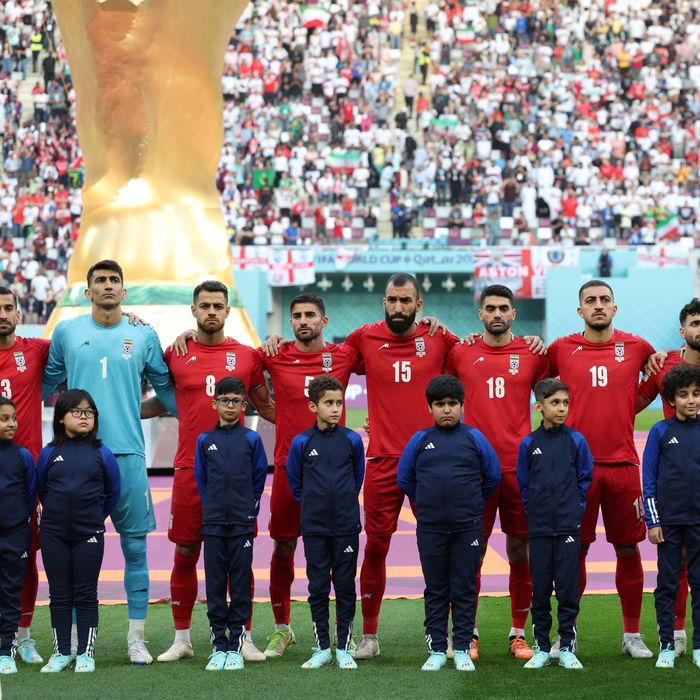 Iran's team on Monday.
Photo: Fadel Senna/AFP via Getty Images
After many years of anticipation mixed with fear, the strangest World Cup ever began on Sunday. The tournament, which Qatar procured by highly suspicious means, is taking place in a patch of a Persian Gulf country where homosexuality is illegal, and thousands of workers are said to have died building stadiums that didn't exist until a few years ago ( Qatar denies this), and buying a beer is about as difficult as finding a die-hard local football fan.
Given the tumultuous run-up to this tournament and the usual geopolitical complications that lurk in the background of every World Cup, the opening days of the tournament were inevitable for fireworks. Here are the weirdest and most dramatic moments yet.
To (slightly) roll back Qatar's draconian treatment of LGBTQ+ people, several European teams including England, Germany and the Netherlands had planned to wear "OneLove" rainbow bracelets during their matches and were ready to face fines for doing so. But just before kick-off, FIFA warned that any team's captains who do so would automatically receive yellow cards – a penalty that could result in disqualification from the game.
"FIFA has made it very clear that if our captains wear the armbands on the field, they will impose sporting sanctions," the teams said in part in a joint statement. "As national federations we cannot put our players in a situation where they face sporting sanctions, including warnings, so we have asked captains not to attempt to wear the armbands at FIFA World Cup matches."
Instead, the teams wear armbands issued by FIFA with the vaguest statement: "No Discrimination". These were supposed to be introduced in the round of 16 but will be introduced for the first rounds instead.
Qatar's aversion to open LGBTQ+ news was evident on Monday. Football journalist Grant Wahl tweeted that he was arrested by security shortly before the USA-Wales game after attempting to kick wearing a t-shirt with a rainbow on it.
Qatar is not the only authoritarian government in the region. Across the Persian Gulf, Iran's theocratic leadership has responded brutally to large-scale protests that are still engulfing the country more than two months after they began.
On Monday, the players of the Iran national soccer team made it clear where they stand. During the national anthem before Iran's game against England, all Iranian players were silent.
Iranian fans spoke out and carried signs protesting against the regime into the stadium. However, Persian flags were not let in.
England, a World Cup favorite, easily defeated Iran 6-2.
There are many reasons Qatar were an enigmatic choice to host the World Cup and their complete lack of footballing history tops that list. The country's team had never made it to a World Cup before this one (World Cup host countries automatically qualify for their tournaments). Beyond that, there is little footballing tradition or interest there.
Qatar's side may have made progress in recent years, but judging by the crowd at Sunday's opener, fan culture in the country still has a long way to go. When Qatar lost 2-0 to Ecuador – barely an insurmountable margin – many of the home crowd rushed to the exits.
That a large number of the home country's obvious fans were unwilling to stay for 90 minutes does not bode well for the future of football in Qatar.
Qatar is a deeply conservative Muslim country, and alcohol there is both rare – mostly confined to places like hotel bars – and expensive. And it's made it even harder for fans who want a drink. Just days before the tournament, Qatar abruptly announced that beer would not be available outside stadiums as previously promised. All of this has left frustrated fans struggling to access a tight supply of alcohol and pay through their noses when they find it. On Sunday, Ecuadorian fans expressed their frustration with a simple but effective chant:
Well said, Ecuadorians, well said.