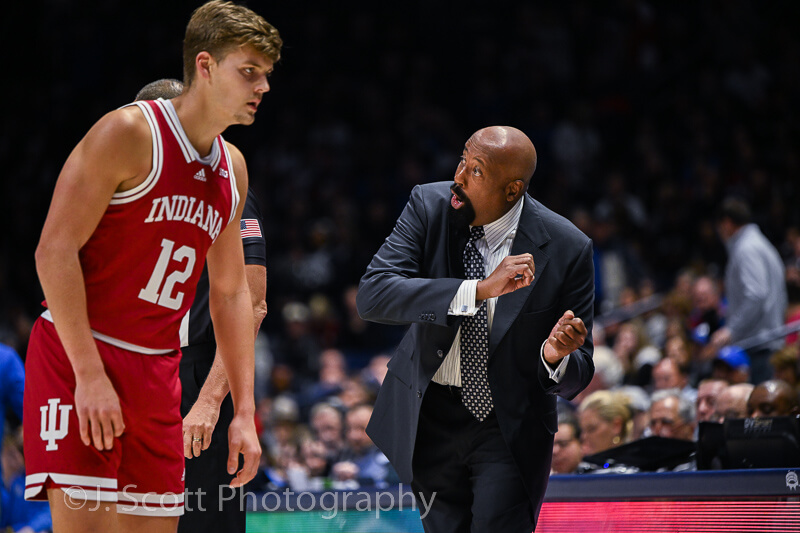 "Inside Indiana Basketball with Mike Woodson" returned in the evening after Indiana's 30-point win over Miami (OH) as Woodson sat down with the Hoosiers' voice Don Fischer.
One of Indiana's graduate executives, Adam Howard, joined Fischer for the final segment of the show.
• Woodson said Trayce Jackson-Davis "refused to let [Indiana] lose" against Xavier. He cited Jackson-Davis' work on rebounding and getting the ball to the ground and his plays around the basket.
• On Xavier Johnson's 23-point game against Xavier: "He's grown so much over the year we've had him… he's gotten so much better… he finally had that breakout game against Xavier you need if You there are such a great team to play with. I thought he did whatever it took to help us win the game."
• After some technical fouls on Xavier, Woodson said he was focused on fixing the team's 'stupidity'.
• Indiana plays No. 1 UNC on Nov. 30, but Woodson said he's "not even thinking about North Carolina right now" as he has two games left before the matchup.
• On the roles in the team: "I think we're still learning. I know as a coach I'm still learning rotations and combinations that work well together."
• On the bench: "They are very competitive. They love to play basketball and they've been great for our team so far this season."
• Trey Galloway sat out the Miami (OH) game and Woodson said they were still "taking it easy" until they fully checked his knee – Woodson said he injured himself during the game against Xavier.
• On Trey Galloway's development last season: "He's a big piece of the puzzle. He's made a big turn based on where he was last season… the kid plays so hard.
• About Malik Reneau: "He is a talented young player who is physically fit enough to play basketball. His body is amazing and he loves to play and he loves to learn… and I just can't help but think that as he keeps working and growing, we'll all benefit."
• Woodson said he was very pleased with the team's ball handling and turnover rate, citing that as a big part of good offense. Indiana averages 11.3 turnovers per game.
• On three-point shooting: "We're shooting 36% as a team at the moment. That's pretty good compared to where we were last season. We couldn't throw it in the ocean last season."
• Woodson said he was confident the team would pull off their three-pointers. He quoted Miller Kopp, who came up with shots at key moments, saying it shows a lot about how Kopp isn't afraid to "pull the trigger" when he has open shots.
• Woodson was concerned about how the newcomers were handling the environment at Xavier, but said he thought they were handling it fairly well.
• On Jalen Hood-Schifino and Malik Reneau: "They still have a long way to go. College basketball is hard work…it's my job to make sure that when they're down, I have to pick them up and get them ready to go."
• On analytics and statistics: "I'm not against analytics, [but] The most important statistic is, are you winning?'.
• Woodson said the stats he looks at after games are defensive field goals, rebounds and assist totals.
• On coaching by feel: "I've always coached like this and the players make it easy… you find the next man and see if he's ready to play and give you what you want and when he is , you ride him."
• About playing four games in eight days: "The schedule was set up because it gives you a tournament game atmosphere."
• About Little Rock: "They're a pacing team… we know it's a team that likes to get the ball out and run and they give up points."
• Howard on Trayce Jackson-Davis and Race Thompson: "Race and Trayce are just incredible leaders, incredible players…if Race and Trayce don't come back, we're a different ball team."
• Howard says the biggest difference he's seen since Woodson took over as head coach is that the players love coming every day.
Filed by: Mike Woodson