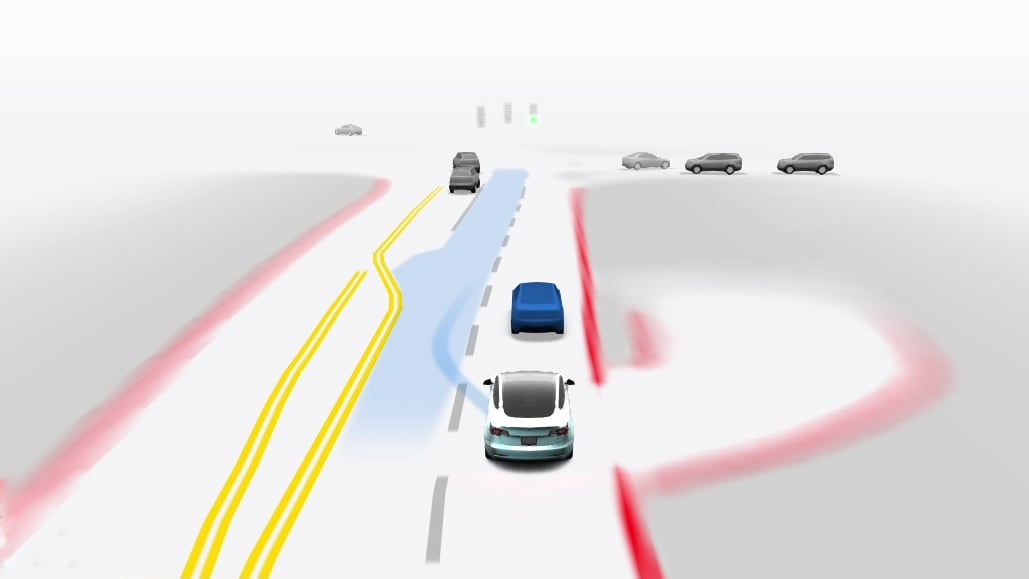 Tesla's Full Self-Driving program continues to expand with FSD beta version 10.69.3.1, but the biggest, version 11, is scheduled for release in December.
FSD Beta 10.69.3.1
Most beta testers have been stuck with beta 10.69.2.4 for a while, which was first released on October 20th. This build was based on the 2022.20 update, so it's missing several months of Tesla software improvements, making owners even more excited for the latest build, which is based on 2022.36.
About 1 percent of public testers gained access to 10.69.3.1 over the weekend and the trend continued today with about 10% of testers gaining access to the latest beta.
We believe the trend will continue as more users get this build tonight and tomorrow, and we expect all current testers to be on FSD Beta 10.69.3.1 by Thursday of this week. If you've been waiting for a new build, the wait shouldn't be long now unless major issues are found.
While Elon Musk was busy rebuilding his new venture, Twitter, he used the platform to share a few updates about Tesla. On Friday, November 19, Musk tweeted: Tesla FSD 10.69.3.1 is now widely distributed.
Extension to new testers
While FSD Beta 10.69.3.1 has started going to some existing testers, it has also been shipped to some owners who are completely new to the FSD program.
Tesla and Elon Musk have reiterated that everyone in the US and Canada will receive FSD Beta by the end of the year. We expect Tesla to slowly add more users to the FSD Beta until eventually everyone is included.
FSD Version 11 – Coming Soon
On Sunday, Tesla's CEO was asked for an update on FSD V11. Musk tweeted: Making good progress. We're still tracking next month's release. This tweet caused a lot of confusion because Musk had tweeted five days earlier: We will be expanding the V11 beta before Thanksgiving.
Many people sought clarification, including Twitter user @BLKMDL3, who asked: By "wide release next month" do you mean those who currently have a beta version, or anyone who has purchased FSD and does not need to do a security assessment. Musk replied: The latter.
This response suggests that V11 beta could potentially come out this week for a select few, but Musk is sticking to his timeline outlined on the third-quarter earnings call; FSD will go to everyone, including the new V11, by the end of the year.
Single Stack Version 11 is a game changer
V11 release notes indicate that this update will be nothing short of incredible. As Tesla engineers pointed out at AI Day 2022, version 11 is a single stack, a code that provides everything from parking lots to highways. The update: "Unifies the on- and off-highway vision and planning stack and replaces the legacy highway stack, which is over four years old," the notes read.
Tesla said the old FSD highway program used multiple single-camera and single-image networks but could only navigate "simple lane-specific maneuvers." That will change with the next update, as the program uses: "Next-generation multi-camera video networks and schedulers that enable more complex agent interactions with less lane dependency make way for smarter behaviors, smoother control, and better decision-making." The extensive List includes improvements for severe weather, navigating blocked lanes and debris, and better speed matching and gap selection.
Many who have been waiting for FSD for years may need a few more weeks of patience. But in all respects, FSD will be worth the wait.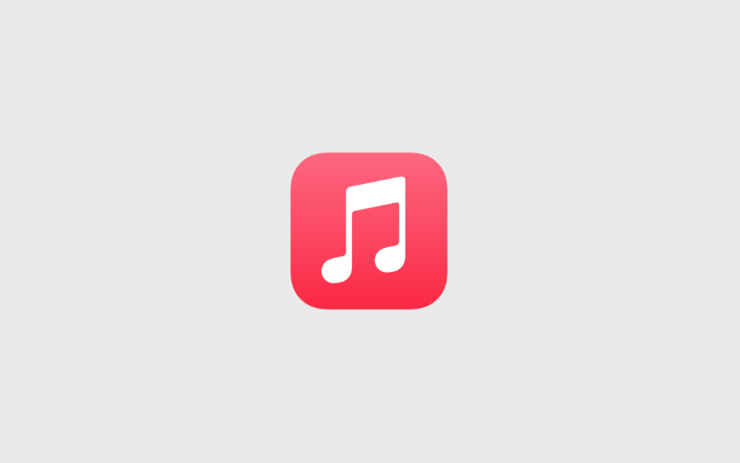 After many years of waiting and anticipation, Tesla is finally adding Apple Music to its cars.
Aaron Cash shared photos of Tesla's new exhibit at the Petersen Automotive Museum in Los Angeles via Twitter, which opened on November 20, 2022. Aaron found out that Apple Music was included in one of Tesla's vehicles.
At the show, Tesla furnished the interior of the new Model S, complete with center console, steering wheel and infotainment system, so attendees could experience the yoke steering wheel and its lightning-fast processing for maps, games and entertainment.
The "vehicle" was running a developer version of Tesla's operating system, version number 2022.40.50, and this is where Apple Music was found.
Tesla is notorious for leaving Easter eggs and hints of upcoming features in its software, and it appears that this vehicle was intended to run a developer version with Apple Music. We first speculated that Apple Music was coming when an icon was spotted during the Zoom conference where they were showcasing their video conference running in Teslas.
According to the software menu in the vehicle, the vehicle's VIN was set to "P3TERS3N1P000BUCK".
integration
Tesla will integrate Apple Music into its music player instead of actually running an Apple Music app, which has both positive and negative qualities. On the plus side, the user interface will be consistent and similar to Tesla's other music offerings, and it's also expected to support Tesla's voice commands. However, this may mean that not all Apple Music features may be available.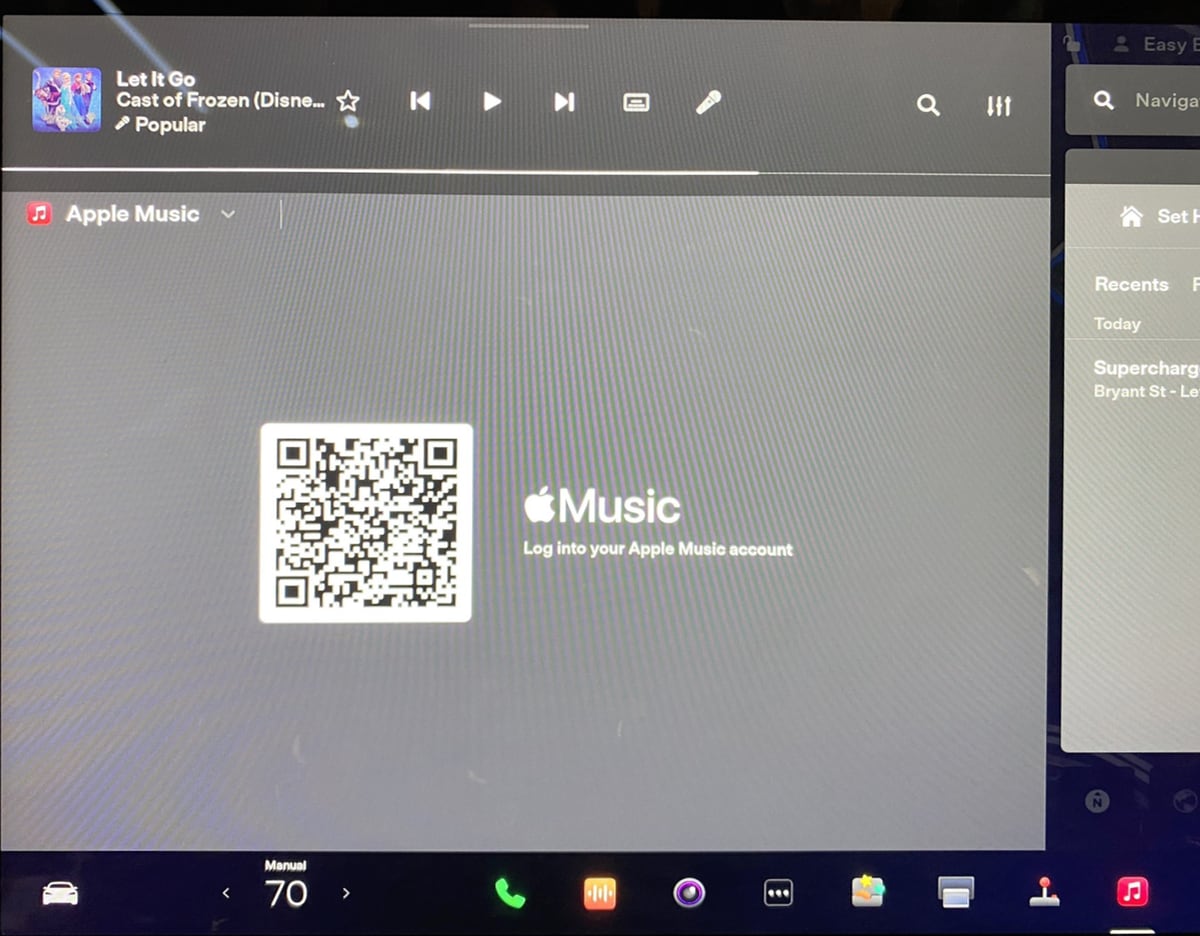 Spatial Audio
Apple recently announced that Apple Music will support spatial audio in some vehicles. In addition to spatial audio, Apple Music also supports lossless audio for a variety of music. Apple describes these features as creating an immersive audio experience that produces "true multidimensional sound and clarity."
It's not clear if Tesla will implement spatial audio or lossless audio support when implementing Apple Music, but we can stick to the core features. Tesla currently supports high quality audio with TIDAL.
Release Notes
The Tesla release notes for Apple Music inclusion were shared by TeslaRaj on Twitter. While they don't give much away, it confirms that you need premium connectivity to stream Apple Music over the air or using WiFi, either while parked and connected to a local access point or using your phone as a hotspot. You'll also need a subscription to Apple Music. There's no mention of Dolby Atmos or lossless audio, so it's possible those options won't be included, at least when Apple Music was initially released. Tesla's release notes are as follows:
Stream over 100 million songs and 30,000 playlists ad-free. Hear your entire library, discover more music and tune in to live radio stations. To access Apple Music, tap the Apple Music icon in the application launcher, scan the QR code with your mobile device, and sign in with your Apple ID.
Note: A Premium Connectivity subscription is required to stream Apple Music over a cellular connection.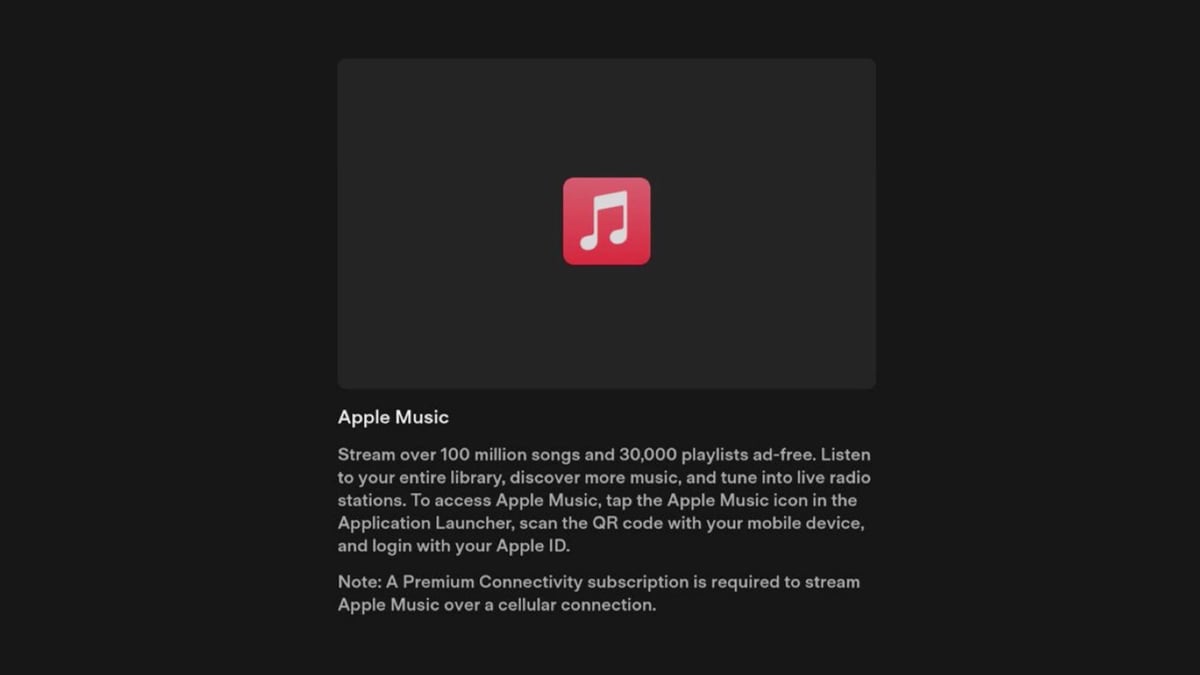 release date
There is no official Apple Music release date, but the wait shouldn't be long. It's highly anticipated that Tesla will add Apple Music with this year's holiday update, which is expected later next month.
Last year Tesla released a holiday update that included the ability to create custom light shows, a new user interface, a customizable launcher, the addition of the blind spot camera, and more. This year's Christmas update is also expected to include a variety of new features.
Apple Music, which surpassed 100 million songs in October, is one of the last major streaming services to be added to Tesla's vehicles. Currently Tesla offers Spotify, TIDAL, Slacker Radio, TuneIn and SiriusXM (Model S/X only). To stream music through any of these services, you must subscribe to Tesla's $9.99/month premium connectivity.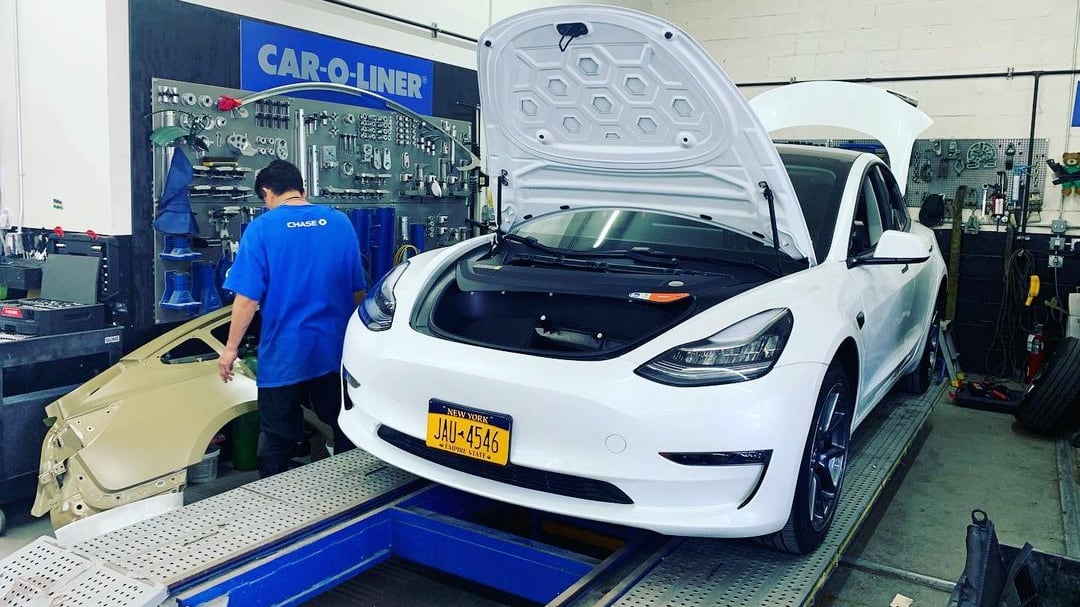 Ironically, Tesla's rising popularity has helped a repair shop that's been around for over a century. Speaking during General Motors' Investor Day, the company's President Mark Reuss said, "This is a growing business for us. I have to say it's a new business," Barrons said. He was referring to servicing Teslas at GM facilities. The car company, which has existed since 1908, has repaired more than 11,000 Teslas in the USA since 2021.
While Tesla isn't happy about losing business on the service side, it has to be relieved that its owners have access to repairs at a company that has thousands of service centers across the country. Tesla has ramped up production and put more of its in-demand vehicles on the road; However, it takes much longer to build facilities and train staff to maintain these vehicles.
More Teslas need servicing
Recently, internal documents showed that the company wanted to implement a process that would allow salvaged Teslas to be re-certified and reintroduced to the Supercharger network. That may increase the number of Teslas to work on. Service improvements have been on Tesla's radar for a while. Last year, Musk said the company was ramping up service center openings to keep up with skyrocketing demand for the product.
Musk focused on service
In September, Elon Musk said he was focused on improving the service. A Twitter user complained about the cancellation of a recent service appointment at short notice. Musk replied: Note that I personally put a lot of time into evolving the Tesla service to make it great. Hopefully, this will start to be felt by Tesla owners.
The user also pointed out that Tesla can charge $100 for canceling an appointment with less than 24 hours notice, but there was no penalty if the company canceled at short notice. Musk tweeted: You're right, we should give Tesla owners a $100 credit if we change appointments with less than 24 hours in advance. Should be mutual. On June 4, 2022 he tweeted: Working on Tesla's North American service. The aim is that 2/3 of the cars are serviced the same day, no waiting times.
But since those tweets, Musk has drawn a lot of attention to running his new company — Twitter. It's unclear how long he'll be running Twitter or when his full attention will return to Tesla and improving the service.
While more facilities have opened, many Tesla owners are clearly finding it more convenient to head down to their neighborhood GM dealership. This ironic twist can provide short-term relief. Still, Tesla needs to keep building and staffing more service centers to keep owners happy and persuade potential buyers to consider the electric car pioneer when purchasing their next vehicle.