Ghanaian film star Juliet Ibrahim recently teamed up with the BBNaija star to create a fashion video
The clip, which saw them in two different ensembles, went viral on the internet
Many people who saw the video questioned the nature of Teddy A's Agbada due to the fabric used
While Juliet Ibrahm and Teddy A hoped to wow their fans with their stunning fashion transformation video, something about the video didn't quite impress.
The Ghanaian film star and the BBNaija star can be seen dressed in African prints at the start.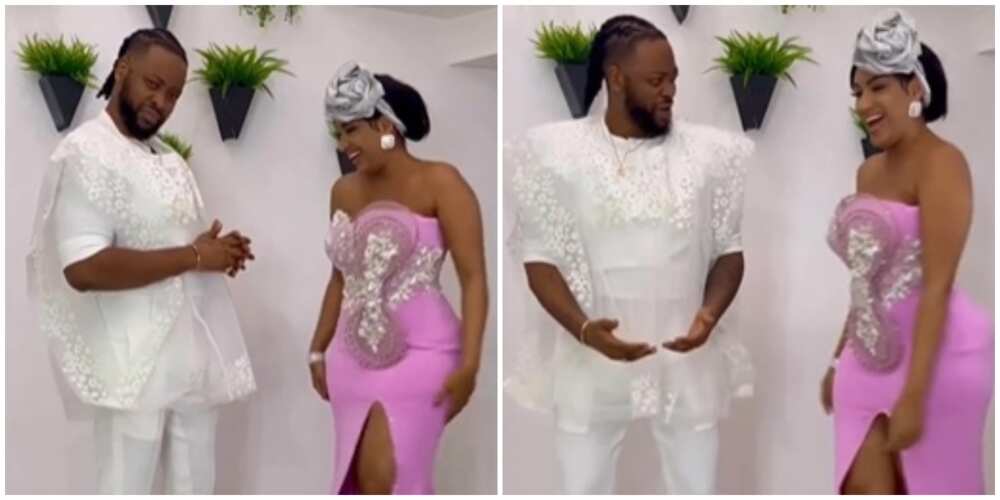 However, when they change into their second outfits with Ibrahim in a strapless floor-length purple dress, Teddy A dons a white Agbada look, leaving a big question mark for viewers.
The material looks transparent and is similar to organza.
PAY ATTENTION: Share your outstanding story with our editors! Please reach us at [email protected]!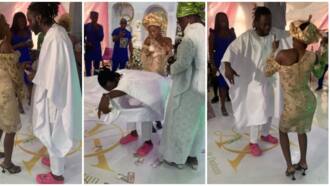 Video of man swinging pink crocodiles on Agbada goes viral, netizens laughing
Watch the following video:
Social media users are reacting to Teddy A's Agbada
Iamtomiwaishola:
"Is the bridal material with him?"
kaybee_fabrics_backup:
"Shey na eyes deh pain me abi no be organza teddy A wear so"
bq.clothing:
"You don't use organza to sew Agbada? … anyway they use brocade for Agbada now, so I won't be surprised."
Mrs_Excellence:
"Is that a veil? or sieve"
chunkygiftnsurpriseng:
"I don't understand this net bonfo (jumping) Agbada they want to shove down our throats. Doesn't look good."
ophurayy:
"Why is the Agbada in lowercase?"
queen_behappygang
"The Agbada does not give"
olubori_o:
"Lmaoooo. Which Kain "Bonfo" Agbada is this?"
Rosykween:
"Wish the Agbada was longer, would have been a nice concept."
other142002:
"Looks like the net they put on the window."
Video of man swinging pink crocodiles on Agbada goes viral, netizens laughing
Crocs have become a marmite trend because while many people love them, many others aren't fans of gumboots.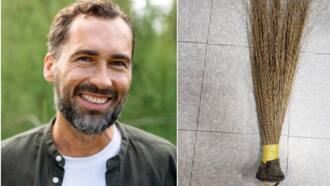 "Well broom of life?" US trader sells local Nigerian broom for N11,200 abroad, photo goes viral
While the design is often rocked in casual ensembles, there seem to be people who have shown their love for the famous shoes goes beyond fashion considerations.
A video of a man dancing at what appears to be a wedding has surprised social media users with the backlash over his choice of shoes.
Source: Legit.ng