Harry Maguire will start England's World Cup opener against Iran in a back four, while Gareth Southgate will play a 4-3-3 formation after his first starting XI of the tournament was confirmed.
Southgate's change of formation means there is room for an additional midfielder in the starting XI as Jude Bellingham makes his debut World Cup appearance.
Bukayo Saka has also received the nod to right winger Phil Foden, who joins Harry Kane and Raheem Sterling in a front three.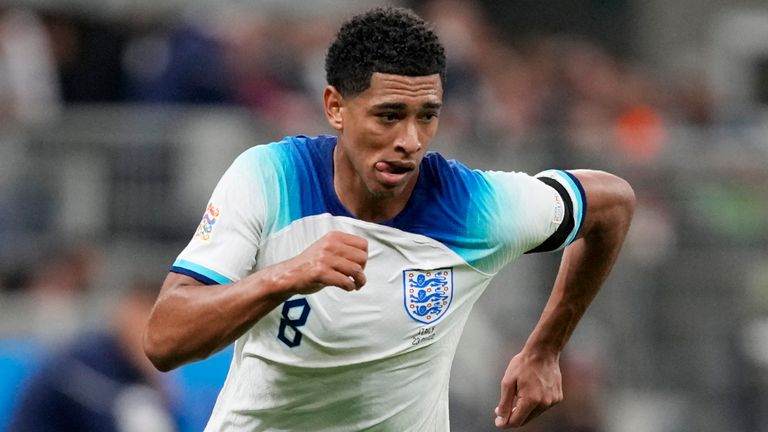 Maguire's inclusion is controversial given he has only made one Premier League start since September, but the Manchester United defender has been an integral part of England's last two major tournaments.
The 29-year-old played a key role in the semi-finals of the 2018 Three Lions World Cup and was then called up to the team of the tournament when England finished runners-up at Euro 2020.
Bellingham's start is less controversial, however, as the 19-year-old has enjoyed a stellar season at Borussia Dortmund, scoring nine goals in 22 games in all competitions this season.
England's starting XI against Iran
Pickford, Trippier, Stones, Maguire, Shaw, Bellingham, Rice, Mount, Saka, Sterling, Kane.
Substitutes: Walker, Grealish, Henderson, Rashford, Pope, Phillips, Dier, Coady, Alexander-Arnold, Foden, White, Ramsdale, Wilson, Gallagher.
Southgate continuity rules
Sky Sports' Nick Wright:
"No surprises in Gareth Southgate's team and that's exactly how he likes it. This is a manager who puts chemistry and continuity first. To be fair to him, it's an approach that has served England well in the last two major tournaments.
"His line-up against Iran features just two changes from the one he played against Italy in the Euro 2020 final, with Bukayo Saka and Jude Bellingham being the new faces and Kyle Walker and Kalvin Phillips the men eliminated.
"Had it not been for the Manchester City pair's injuries, Southgate might have named the exact same team he did at Wembley last July.
"Harry Maguire's selection will certainly create debate, but Southgate is hoping that stability will return to him as he leads England into their third major tournament as manager."
'Positive selection of Southgate'
Sky Sports News Senior Reporter Rob Dorsett:
"It's pretty much as we expected in terms of England team news.
"Gareth Southgate left with a 4-3-3 formation, which is positive against an Iranian team who he expects to sit back.
"England will have most of the ball and will be expected to do most of the running.
"Because he left with a flat back four he can have an extra midfielder. Jude Bellingham's name will stand out in this starting XI.
"He makes his World Cup debut at the age of 19. His athleticism and ability to break the lines make him key."
England will not wear a OneLove armband at the World Cup
England will not wear the OneLove armband at the World Cup in Qatar as the reversal was announced just three hours before their opening game against Iran.
The FA and Harry Kane had insisted they would wear the armband as a message of anti-discrimination and support for the LGBTQ+ community.
But on Monday morning, FA CEO Mark Bullingham said England were looking into whether there was "another way to show our values" after FIFA threatened to book any captain with the OneLove armband in World Cup matches.
Less than an hour later, the football associations of England, Wales, Belgium, Denmark, Germany, the Netherlands and Switzerland confirmed in a statement that they would not be wearing the armband.
Read more about the story HERE
England kneels before Iran kick-off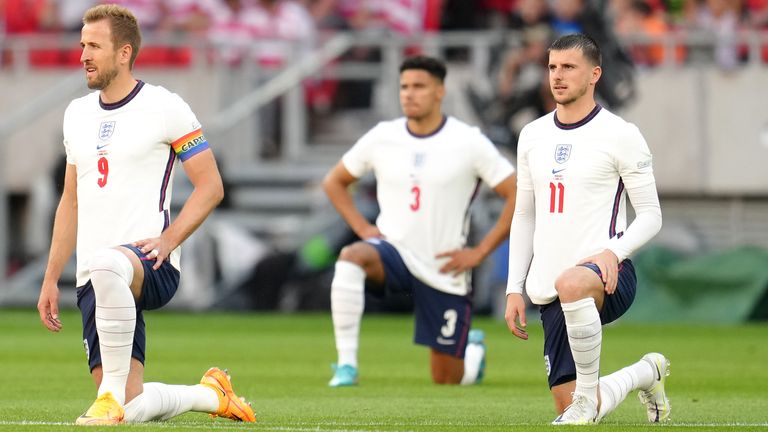 England will take a knee against Iran ahead of the World Cup opener, Southgate has confirmed.
England made the gesture against racism and inequality in 33 straight games as football returned after the Covid-19 shutdown.
England didn't take a knee in September's games but they will make the gesture in Monday's Group B opener and beyond at the World Cup.
"We talked about taking the knee," Southgate said. "We feel like we should do that. That's what we stand for as a team and that's what we've been doing for a long time.
"Obviously in the Premier League we understand that clubs have decided to only do this for certain games and big occasions. We believe these are the greatest.
"We think it's a strong statement to go around the world, so that young people in particular see that inclusion is very important."